Watch: Unboxing Your RightEye System
Download Setup and Operating Guide PDF
Labeled Part List
| | | |
| --- | --- | --- |
| 1 | | RightEye System |
| 2 | | Computer power A/B |
| 3 | | Ethernet |
| 4 | | Wired/wireless keyboard/mouse |
| 5 | | Eye occluder |
| 6 | | Wired number keypad |
System Ports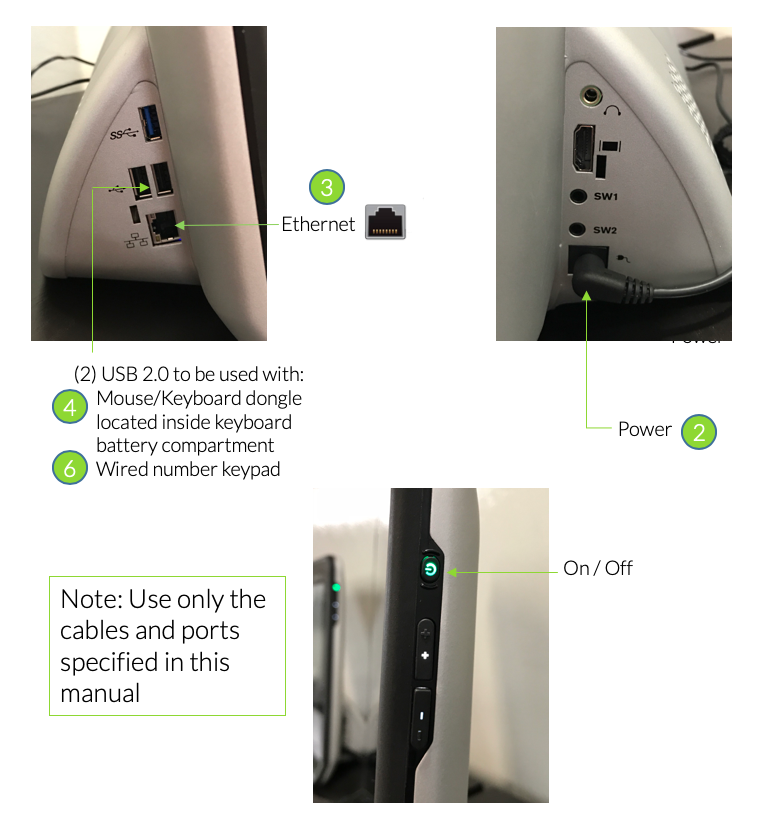 Connecting System Peripherals
Your system includes a wired or wireless keyboard and mouse which are paired using a single USB dongle (pictured below). The receiver is located inside the keyboard or mouse next to the battery.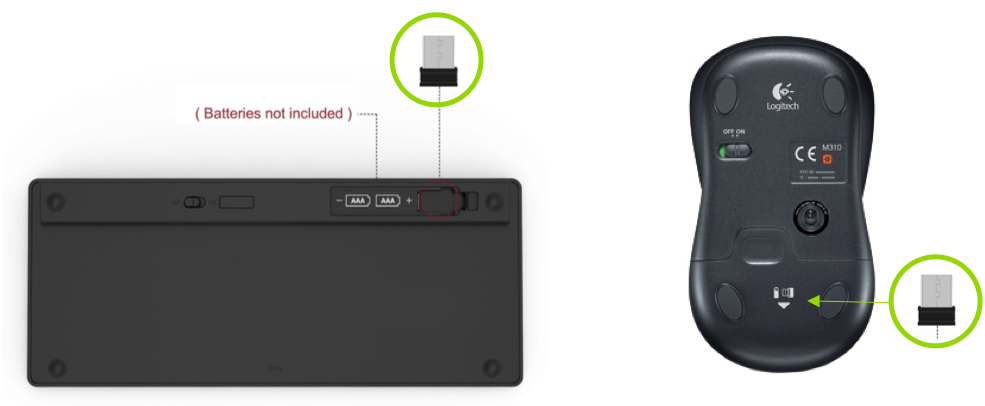 Plug the wireless dongle and wired number keypad into the (2) USB slots located on the side of system.
Connect the provided AC adapter to the right side of the system.
Wired Internet: Connect the ethernet cable (not provided) to the ethernet port on the left side of the system.
Placing Your System

No direct sunlight should be on the eye tracker, monitor or test taker's glasses. Place system away from windows.
System should be set up towards the back of a table. You want plenty of room for keyboard, arms, and mouse.
Use a height adjustable chair or table while testing. The chair should be without wheels and have a stable, firm back. The table should be adjusted for each test taker.
Test taker should be sitting in a natural relaxed position with back against the chair. They should not "sit at attention". Instruct them to "get comfortable".
If the person is VERY tall then they can slouch in the chair a bit and move their bottom forward – but move chair forward so test taker has back against chair.
Keep chin down. NOTE – Test takers with bifocal lenses often tip their chins up to see through the bottom lens.
The eye-tracker, located at the base of the system, should be kept clean using a microfiber cloth.
Connect Your System to the Internet
Successful testing starts with a stable internet connection. Wired connections are the most reliable, and every system is shipped with an ethernet cable. However you can also use a wireless WiFi connection. If your office connection is weak, or you're traveling, use a mobile hotspot like your phone or MiFi.
We recommend having at least 3mbps of upload speed for reliable uploading of test results. Use one of these links to test your internet speed:
---
To connect to the internet, select either "Add Network" from the green welcome screen, or click the "?" menu and select "Network Settings".
On the Network Settings page, click on the network name you want to connect.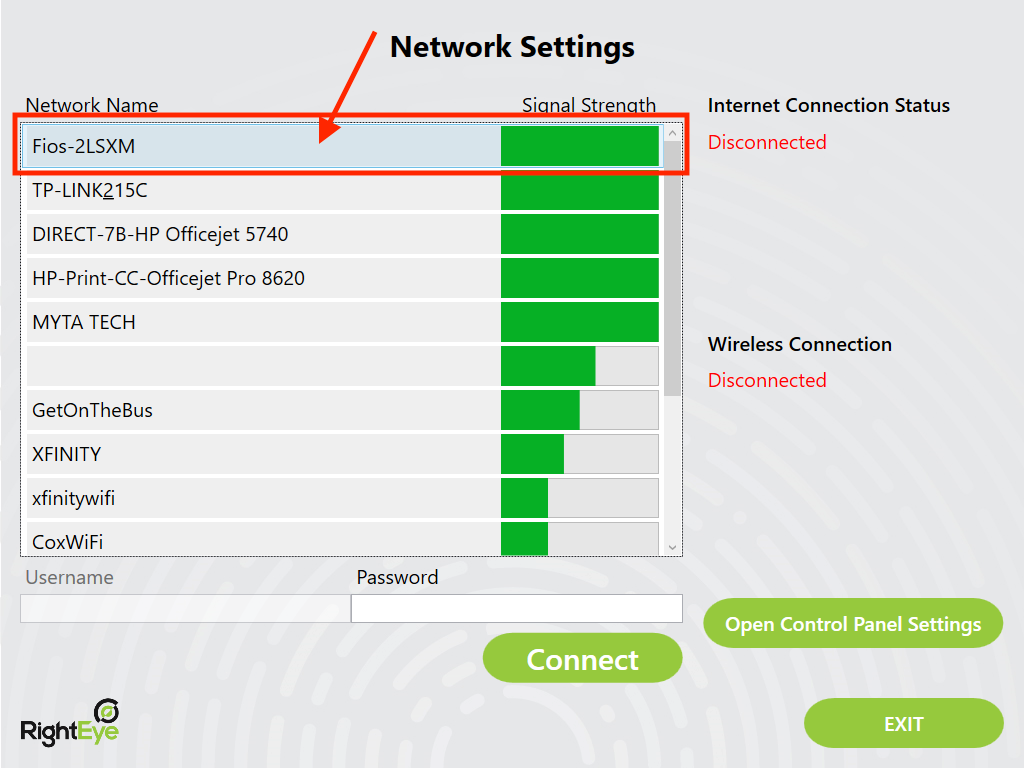 With the network selected, enter your WiFi password in the box and then click Connect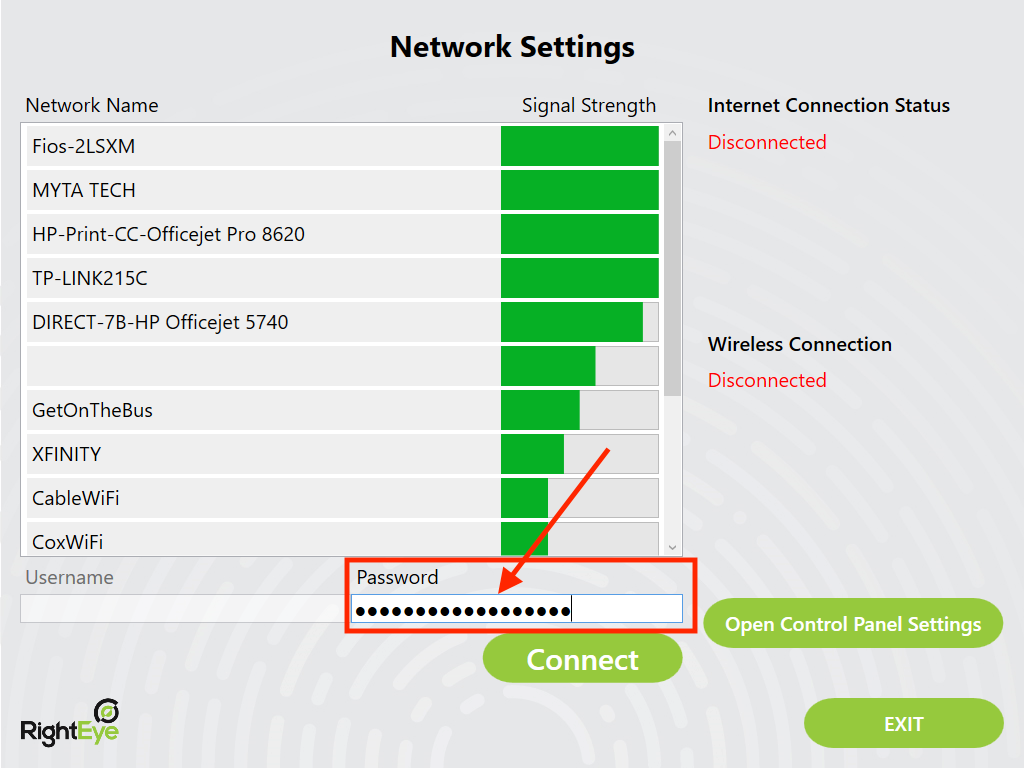 When the RightEye system is connected to your WiFi network, you'll see it listed under Wireless Connection.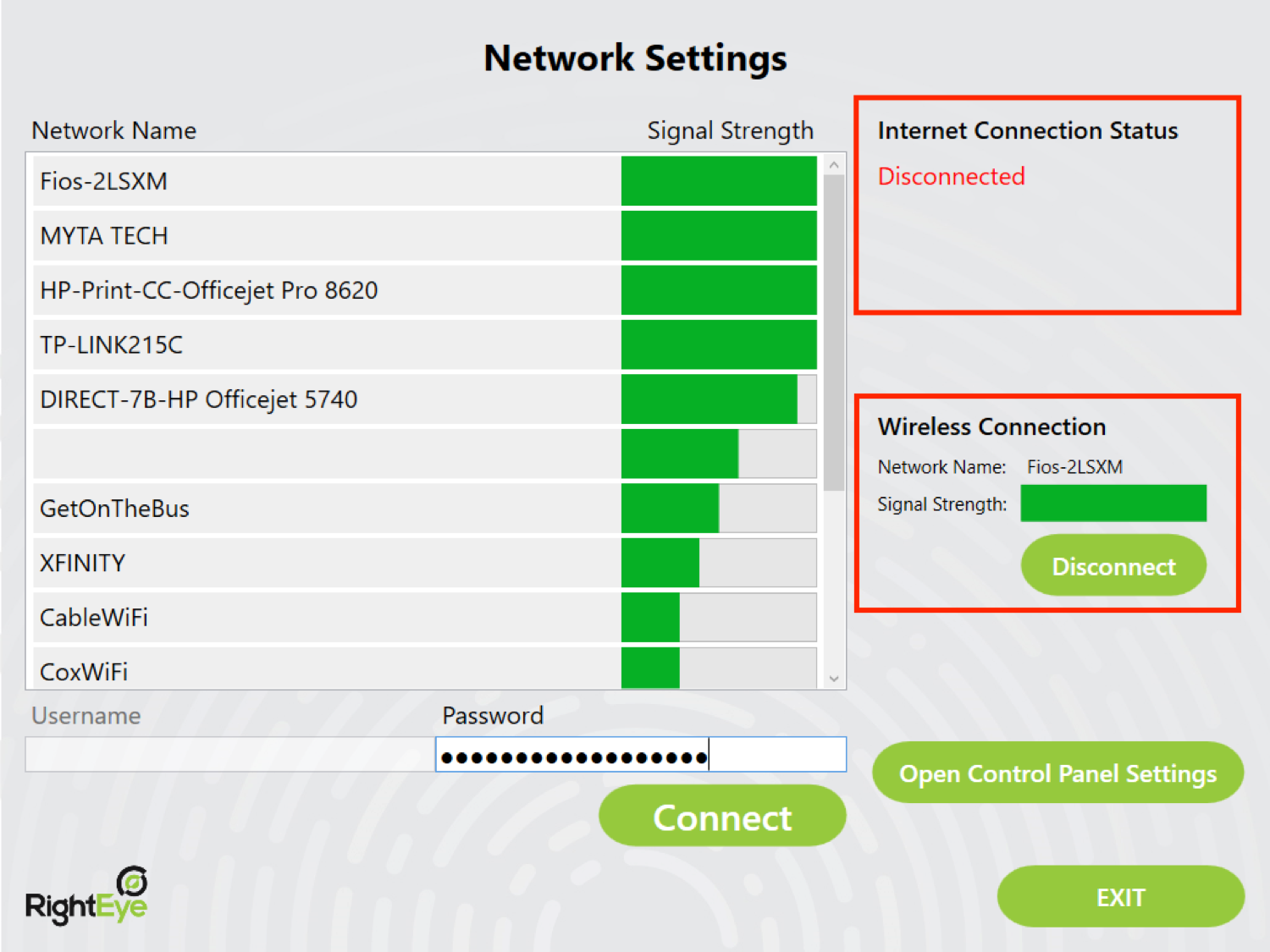 Important!
Internet Connection Status may say Disconnected at first, but should say Connected once an internet connection is established.

Once Internet Connection Status says Connected, you can click Exit or hit the ESC key to return to the green welcome screen and begin testing.
Additional Information
WARNING:
The RightEye Vision System provides no diagnosis, nor does it provide diagnostic recommendations.
CAUTION:
i.Rx only. Federal law restricts this device to sale by or on the order of a physician or clinician licensed to use or order the use of the device.
ii.Do not use the RightEye Vision System for any purpose other than its intended use.
iii.The RightEye Vision System reports eye-tracking outcomes based on the ability of the equipment to accurately track and measure eye movement. While the RightEye Vision System is designed to remove inaccurate data, some environmental conditions may not be detected and may reduce accuracy of device outcomes. Use of the device with conditions that can degrade data quality should be avoided including: direct sunlight, excessive movement, closed eyes, thick mascara, thick, dirty or bi-focal eye glasses, contact lenses, any physical block between the system and the users eye for example hand or arm. Do not locate the system near windows.
iv.Tobii Dynavox i15 technology is using NIR (Near Infrared) light. If other devices, close by to the Tobii Dynavox i15 technology, are emitting NIR light then the Tobii Dynavox i15 technology or other device(s)disturbed and reduce data collection and accuracy of the device.
The safety and effectiveness of the RightEye Vision System has not been evaluated for use in providing diagnostic or screening information including:
1.Assessment of cognitive function
2.Monitoring of cognitive status and/or performance
3.Identifying individuals with cognitive impairments
4.Identifying individuals with concussions or neuro-cognitive deficits
5.Identifying individuals with traumatic brain injury
The following tests are included in the RightEye Vision System:
RightEye Vision Assessment
Nystagmus (Horizontal Random Saccades): participants are required to track a small dot that moves randomly on the horizontal axis, for 60 seconds.
Circular: Smooth Pursuit Tracking: participants are required to track a small dot around in a circle in a clockwise direction, for 15 seconds.
Horizontal: Smooth Pursuit Tracking: participants are required to track a small dot left and right in a horizontal plane, for 25 seconds.
Vertical: Smooth Pursuit Tracking: participants are required to track a small dot up and down in a vertical plane, for 25 seconds.
Horizontal Saccades: Participants are required to move their eyes quickly and accurately, back and forth, between a target on the left side of the screen and one on the right side for 10 seconds.
Vertical Saccades: Participants are required to move their eyes quickly and accurately, back and forth, between a target on the top part of the screen and one on the lower part for 10 seconds.
Please keep your RightEye system online so it can receive security updates from Microsoft. The system is setup to automatically install security updates by itself.
This will help ensure the cybersecurity of the RightEye system.
The Tobii Dynavox system is a component of the RightEye Vision System. General specifications of this system include:
Weight: 3.8kg; 8.41lbs
Power requirements:
Input: Universal 100 ~ 240 VAC / 50 ~ 60 Hz
Output: +24VDC / 0~2.71A
Environmental Use: best used indoors with minimal interference of outdoor light. Do not display near windows.
Environmental Conditions for Operation: indoors with minimal outside light. Do not operate below 55F or above 109F.
Electrical Safety: Compliant with IEC 60601-1 ed.3 /EN 60601-1:2006 / ANSI/AAMI 60601-1:2005
Electromagnetic Compatibility: Compliant with Part 15 of the FCC Rules & EN 60601-1-2:2007 + AC:2010
Dimensions:
36,9 x 32,6 x 11,2 cm
14.5 x 12.8 x 4.4s inches