RightEye's v3.2 release includes:
---
EyeQ Trainer Assigned with Reading EyeQ Assessment
EyeQ Trainer exercises are now assigned whenever a Reading EyeQ assessment is completed. Exercises are given in order to enhance reading ability, irrespective of proficiency in reading. This ensures the eyes are working optimally for effective readers, and helps those with oculomotor mechanical problems while reading to improve.
The first set of assigned exercises will include Fixations, Left Pursuit, and Left Saccades. After retesting, the second set of assigned exercises include Fixations (Lv. 2), Right Pursuits, and Right Saccades. Subsequent EyeQ Trainer assignments from Reading EyeQ will alternate between Left and Right exercises with increasing Fixation levels.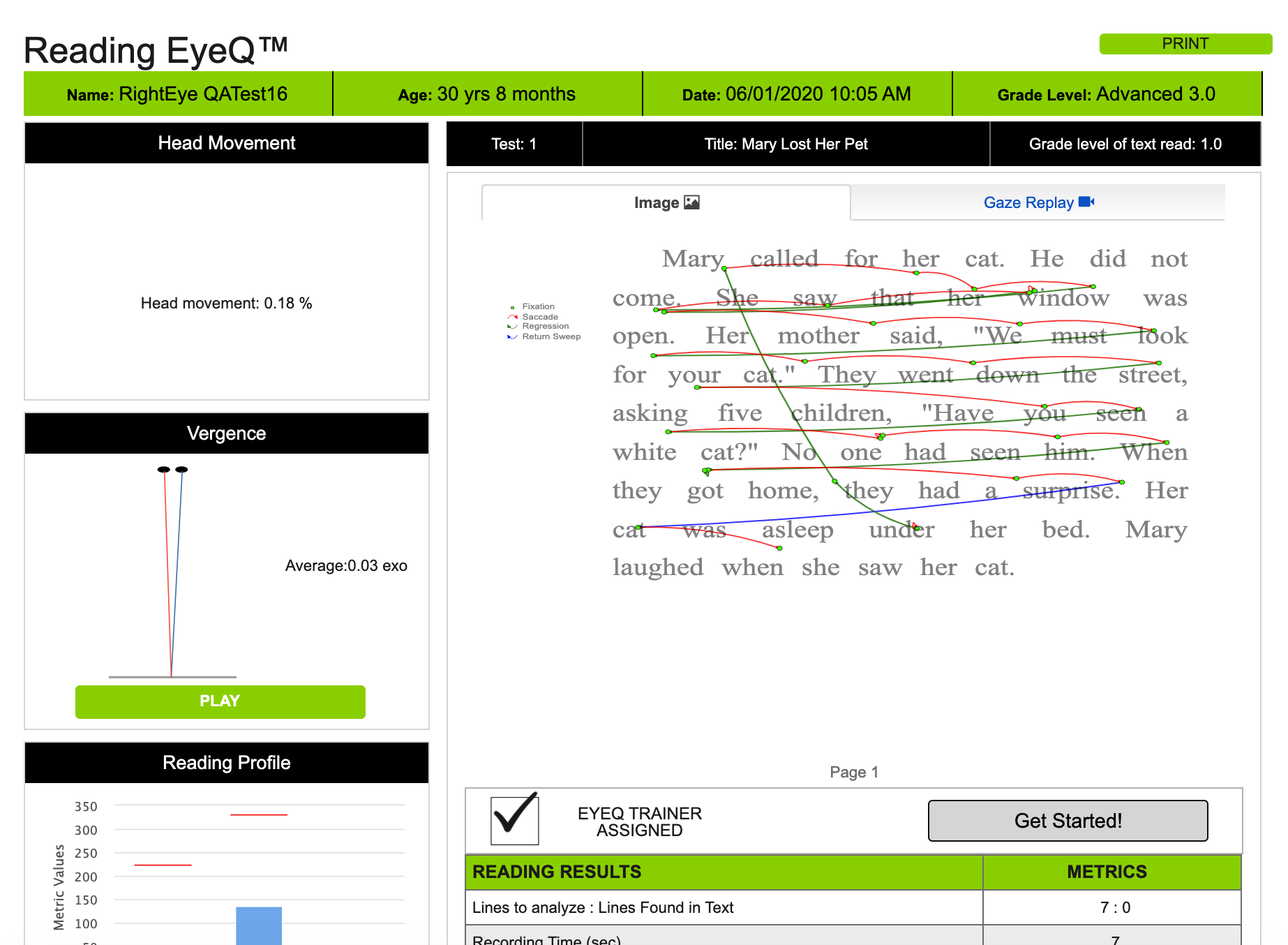 ---
Recalibration Improvements
If you need to recalibrate during the initial test calibration, the eye-boxes and instruction screen are now shown prior to recalibrating, so that you can ensure correct distance from the eye-tracker.
| | | |
| --- | --- | --- |
| Clicking "Recalibrate"... | | ...returns you to this screen. |
---
Therapy Game Scores Now Displayed at Game End
Test results from Space Storm, Cosmos Combat, Maze Master, and Bubble Blast are now shown on screen immediately following the end of the round. You can click "Retake Test" at the bottom of the results screen to play again, or click "Next Test" or "Skip to end of assessment" to advance.
| | | |
| --- | --- | --- |
| Test results after Cosmos Combat | | Test results after Space Storm |