Why "Dynamic Vision"?
Life is not static, it's dynamic. Dynamic Vision better encapsulates the need for healthy eye movements in life's most essential activities, and the improved Dynamic Vision Report gives insight into eye movements like never before, with new tools like side-by-side report comparison.
What's new in the Dynamic Vision report?
With our new Dynamic Vision report, you can view up to 3 reports on one screen depending on your screen size. Compare an individual's report to any of their previous Dynamic Vision, Brain Health or Functional Vision assessment results, or to our expanded reference data.

Our Dynamic Vision report will not require Choice and Discriminate Reaction Time tests to be completed in order to generate a score. These two tests are still included in the Dynamic Vision assessment module and will appear on the Dynamic Vision report if completed successfully.


How did the brain, nerve, and muscle images change?
Brain, eye muscles and oculomotor nerves are present on all Dynamic Vision reports and can be manually toggled to red to indicate impairment by you. How the brain, nerves and muscles relate to eye movements are illustrated here in our Eye Movements Reference Guide. It's viewable online or printable for use with patients.
What prompted this change?
Many of our updates stemmed directly from customer feedback and requests, either directly or via our surveys. Items like comparing multiple reports on one screen, simplifying the data, and not requiring CRT and DRT results in order to see the report were all implemented based on provider feedback. Additionally, we received new guidance from the FDA regarding our report elements which we needed to follow to maintain our FDA clearance.
Where do I click to add or remove report columns?
To add or remove a report, click the list view icon, then the - or + boxes to the right of the report. You can view one report or up to three depending on your screen size and select from individual assessments or our reference population dataset.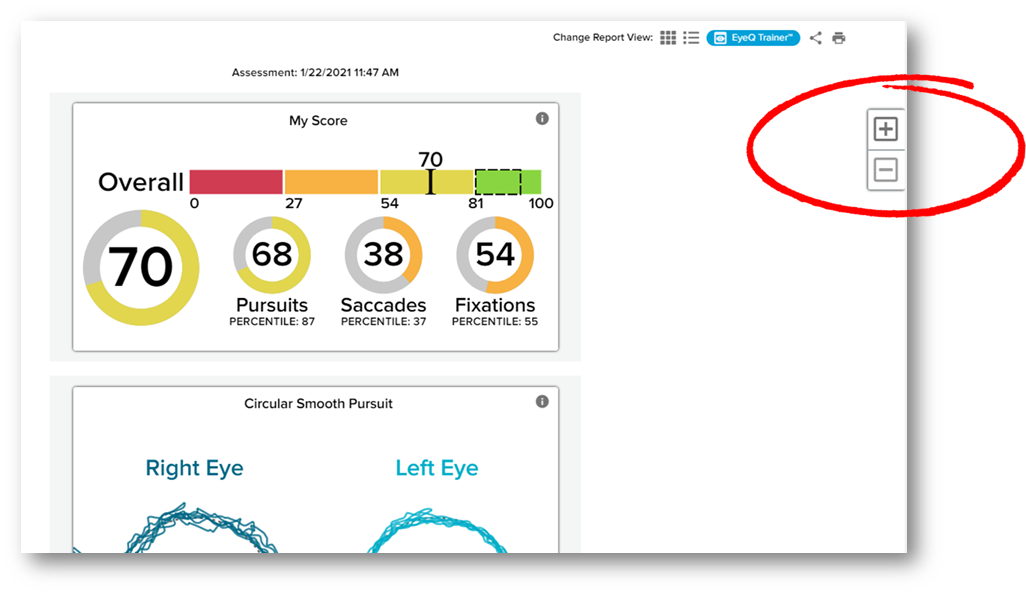 What happened to Brain Health EyeQ and Functional Vision EyeQ?
Brain Health and Functional Vision EyeQ will be retired and not available as an assessment option upon v4.0 release. Dynamic Vision will consist of the same eight tests as Brain Health EyeQ and Functional Vision EyeQ. Prior reports from these tests will be available retroactively in the new Dynamic Vision format, as well as in their original report format. To view these reports click on the assessment you wish to view in the Dashboard, then select the format you wish to view it in from the dropdown list. You may be asked to log in again if navigating to the Portal site.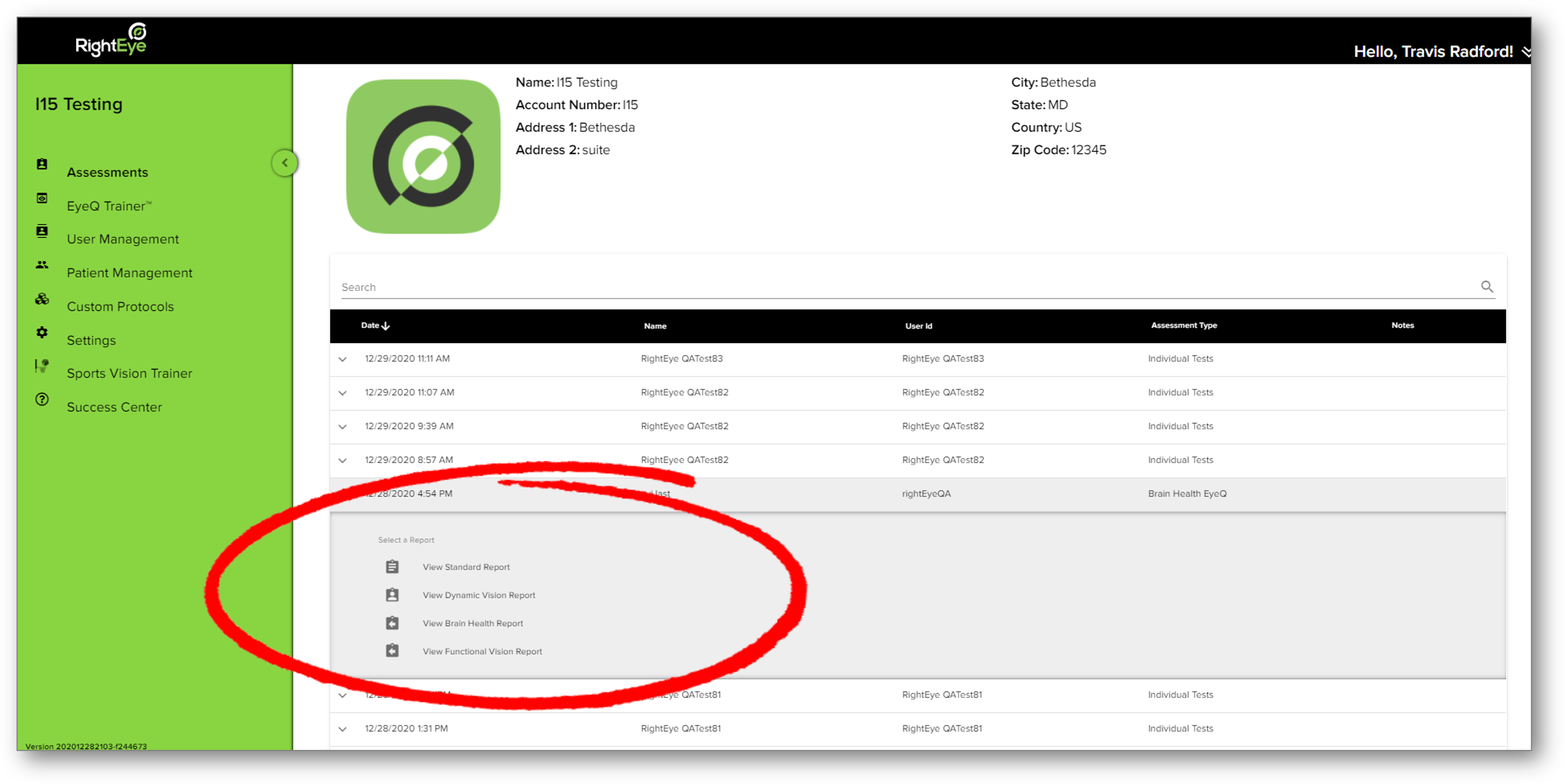 Can I compare individual results to a reference population set?
Yes. You will be able to view an individual's report while viewing a report from our expanded reference data. Each report will have visualizations for an overall score, as well as scores for pursuits, fixations and saccades. For more information on our reference data, click here.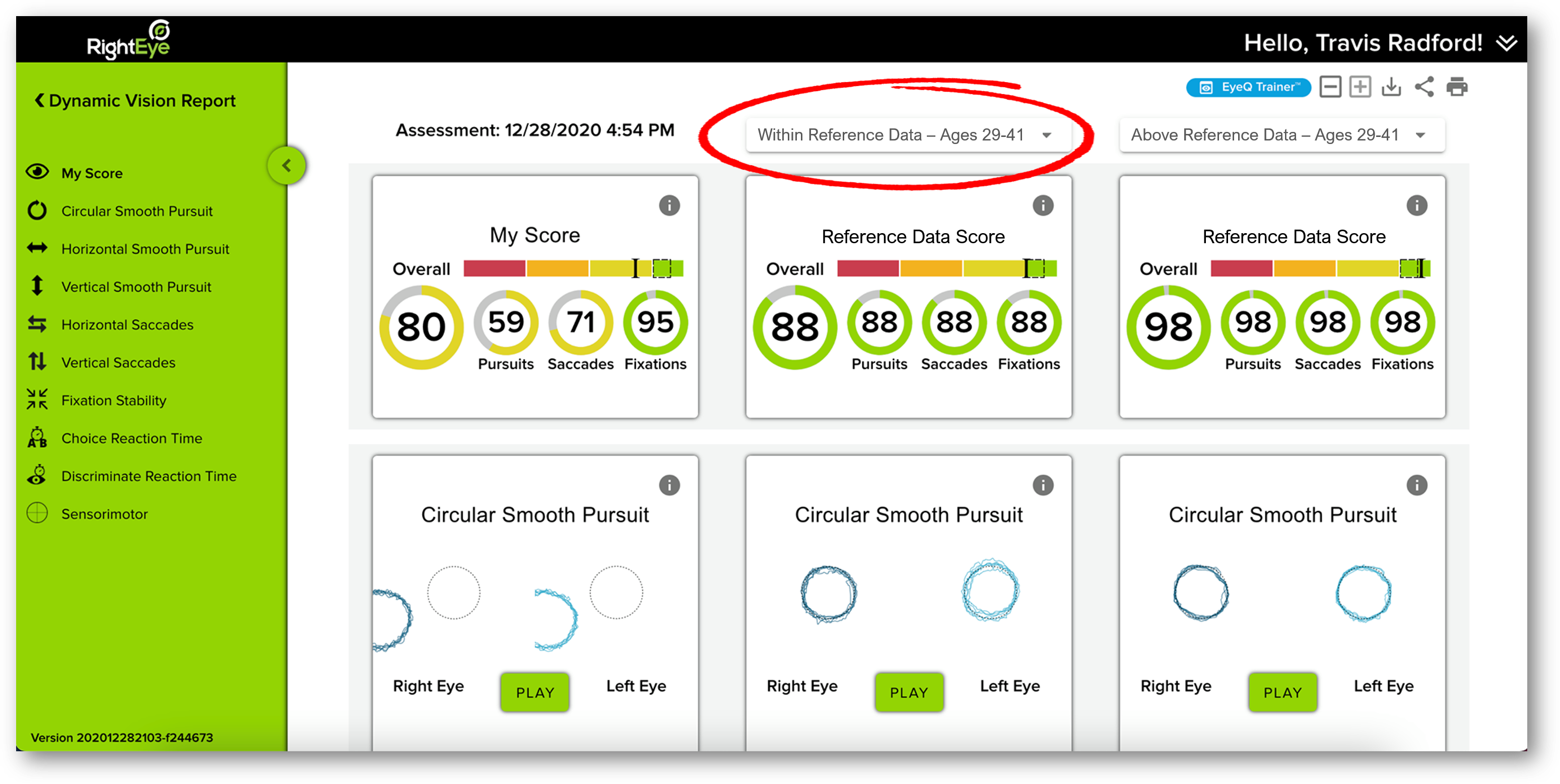 Sample Rendering in Development
Where can I find more information on the current and past reference datasets?
We have outlined the differences between our various datasets in this Success Center article, Reference Data Versions. You can also link to the article via the 'Patient Management' area on our online portal once you're in the application.
How do I print or PDF a report and what does it look like?
To view, PDF or print one-page reports, select the print icon at the top right of the online report while in grid view, and all reports you're viewing online will be available in concise, one-page reports like the sample below.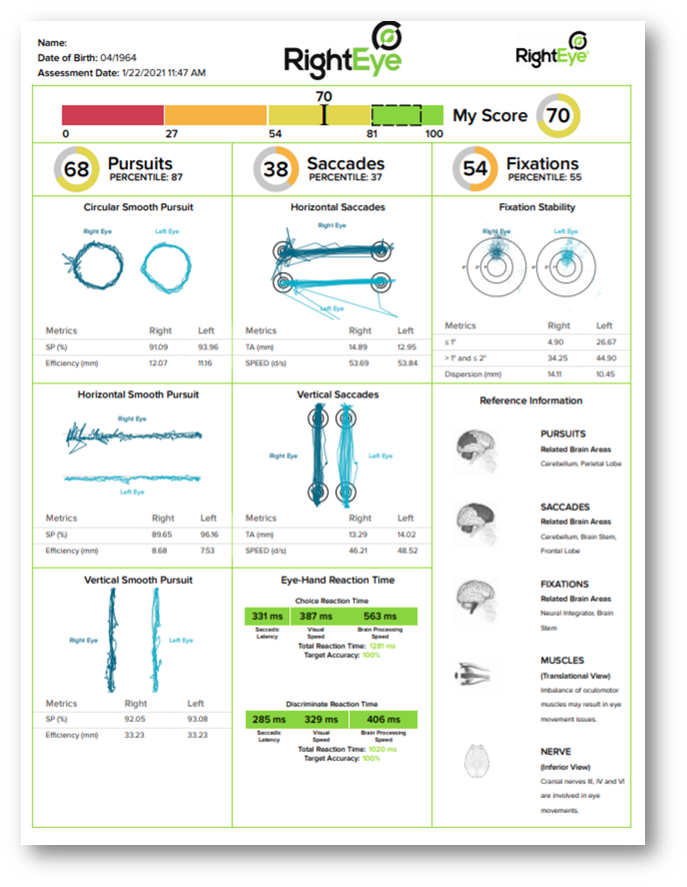 Are there any changes in administering a test?
The test process and individual tests performed will remain the same. However, when selecting which test module to administer, you'll now see Dynamic Vision as an option as opposed to either Brain Health or Functional Vision.
Has anything regarding EyeQ Trainer changed?
The EyeQ Trainer button will be found at the top right of the report and will be blue if the link to the exercises is active and grey if it is not. Otherwise, there are no other changes to EyeQ Trainer in v4.0.

Are there resources available for me to better understand the Dynamic Vision report?
Yes, click here to view a v4.0 Release Overview Session and read more information about the v4.0 release. If you have any questions, you can email success@righteye.com.
How do I replace my marketing materials so they're up to date?
Dynamic Vision marketing materials will be available in early 2021. If you have any specific marketing needs, please contact us at 301-979-7970 Ext. 2 or success@righteye.com.