Uncover, illustrate, and improve like never before.
RightEye v4.0 introduces our new Dynamic Vision Report, expanded reference data, updated Standard report formats, and more, all in a streamlined experience.
View a Recorded Release Overview Webinar
After the release is deployed on January 16, at 11am ET, this update will occur automatically the next time you click "Take A Test" on your device. We recommend you take this action before you plan to test an individual.
---
New Dynamic Vision Report

Conveniently track progress and trends by viewing up to three assessments on one report (if your screen size allows)
Directly compare individual visualizations and scores to our expanded reference data
View the report regardless of Reaction Time test completion (and link to EyeQ Trainer if applicable)
Enjoy simple visualizations and scores making it easier to interpret and communicate results
Review the Dynamic Vision Report Components
Read our Dynamic Vision Report FAQs
Download the Dynamic Vision Comparison Fact Sheet
View the Eye Movements Reference Guide
While online, you'll be able to do side-by-side comparisons of individual reports and/or reference data. Up to three reports on one screen (if your screen size allows).
To view or print one-page reports, you'll simply select the print icon to print a hard copy or print to PDF, and all reports you're viewing online will be available in concise, one-page reports like the sample below.
NOTE: The Dynamic Vision assessment will consist of the same eight tests as Brain Health EyeQ and Functional Vision EyeQ assessments. The Brain Health EyeQ and Functional Vision EyeQ assessments will be retired as assessment options upon the v4.0 release, but prior reports will be available in their old format and the report data can be visualized in the new Dynamic Vision format.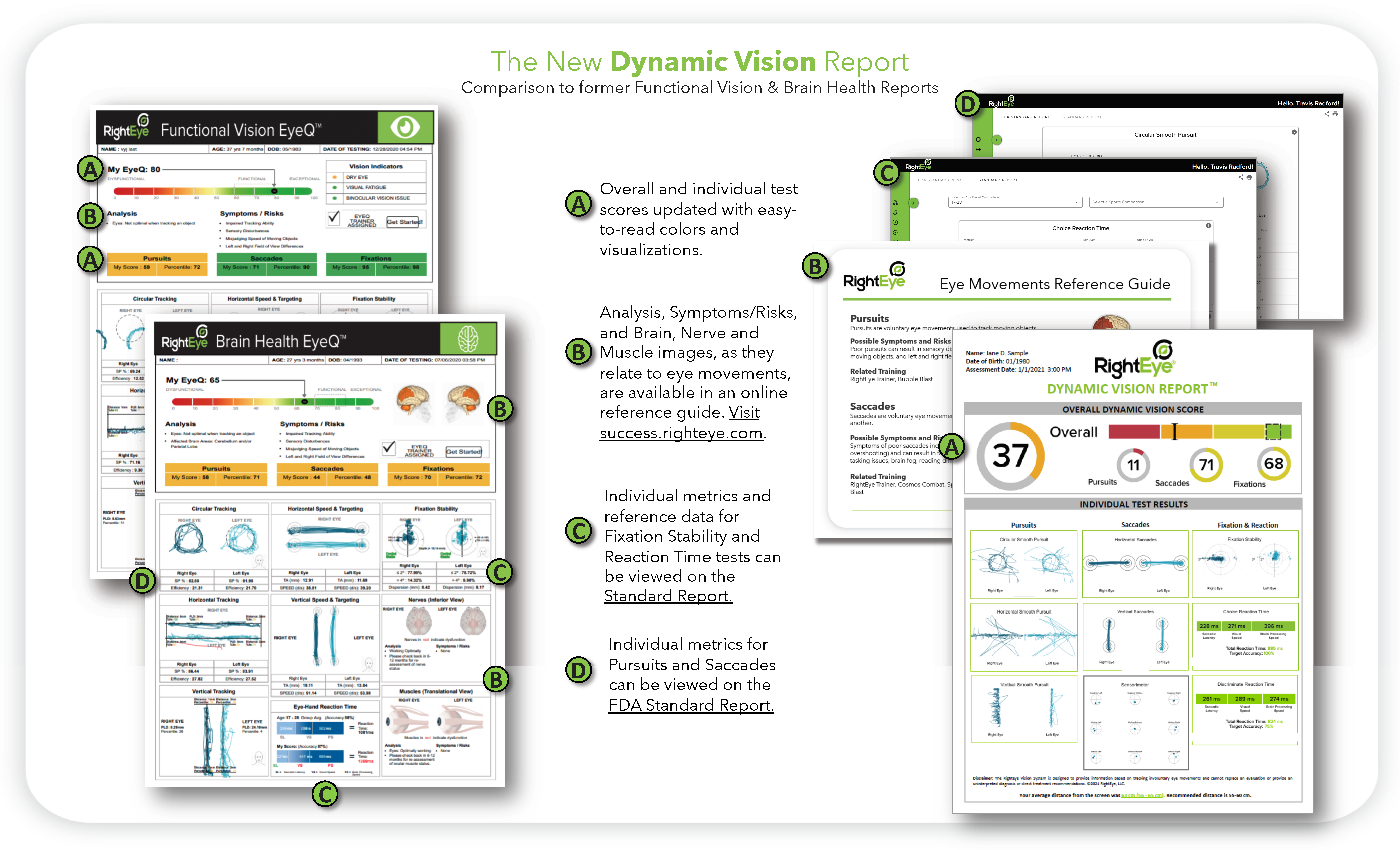 ---
Expanded Age Groups and Reference Data - Now Including Games!

See improved data accuracy when comparing individual results to our expanded reference data (including games!)
Check results against 10 newly expanded age groups developed through 61,000 analytical data sets (up from 3,000)
Now view standard deviations in our Standard Report
NOTE: Sports Vision and Reading assessments will remain unchanged.
Reference Data History: Review Our Reference Data Versions
Click here
to read all about our reference data versions and related third-party research.
Recorded Webinar: Dr. Melissa Hunfalvay Explains Our Reference Data
---
Streamlined Navigation and User Experience

Enjoy a more efficient and visually appealing user experience in the newly updated Dashboard

Legacy Portal will migrate to new Dashboard throughout 2021.
---
Release Overview Webinar Recording
Missed our webinars? Watch a recorded session and get all the information you need to be prepared for the release right now!
Recorded Webinar: RightEye v4.0 Release Overview